KARACHI: Abdul Rahim Palijo, the most corrupt officer of the Karachi Water and Sewerage Board (KWSB) has been reappointed as Executive Engineer of the 66-inch-diameter Hub Trunk Main (HTM). The 18th year officer also illegally set up a dairy farm at the University of Karachi. In the past, he was arrested for accepting bribes by Anti-Corruption while on the report of Chief Engineer of Sindh Infrastructure Development Company Limited (SIDCL) on providing more than 100 connections of illegal water in West Karachi district, he was transferred.
According to documents obtained by MM News, pursuant to Letter No. KW&SB/DP/HR(IV)-I/3195, issued with the signature of KWSB Director of Personnel, Mr. Amir Tughlaq, by order of KWSB Chairman, Superintendent Engineer (E&M (19th year) Wasim Akhtar has been appointed Deputy Chief Engineer (E&M).
While 18th year officer Abdul Wahid Sheikh, Hub Trunk Main (HTML) Executive (Civil) Engineer was given an additional charge and 18th year Executive (Civil) Engineer Abdul Rahim Palijo was is given the load of HTML. While the remediation charge of the Kemari division was taken over from Paleo.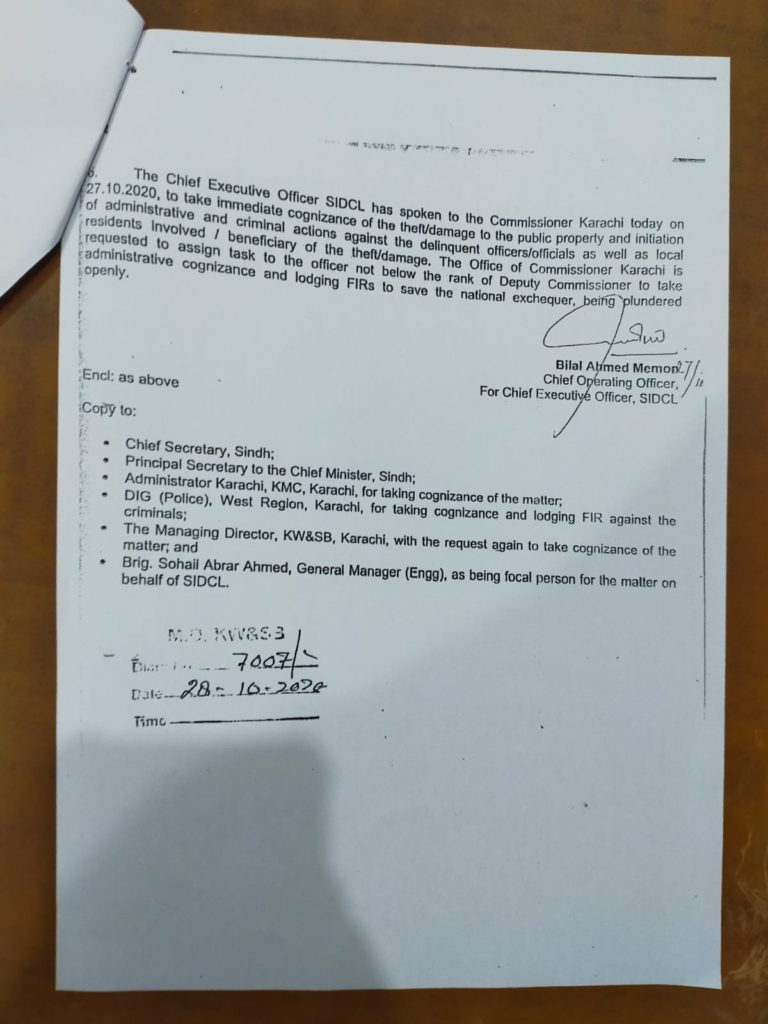 Palejo is a corrupt officer, against whom Chief Engineer of SIDCL, Bilal Ahmed Memon had sent a report to Commissioner Karachi on October 27, 2020, stating that the Rs. various water connections from a line 66 inches in diameter through the Manghopi road.
According to the report, SIDCL had installed 8.9 km of 66-inch diameter pipes and 2.4 km of 48-inch diameter pipes for water supply in the Western District. It is learned that 44 illegal connections of 1 to 4 inches in diameter have been given from the 66-inch diameter line, and Exian Palejo is fully responsible for them.
The report recommended that legal action be taken against the said Exian and his subordinates so that the public interest can be protected from harm and the water thieves mafia can be eradicated, however, no action has been taken against Palejo.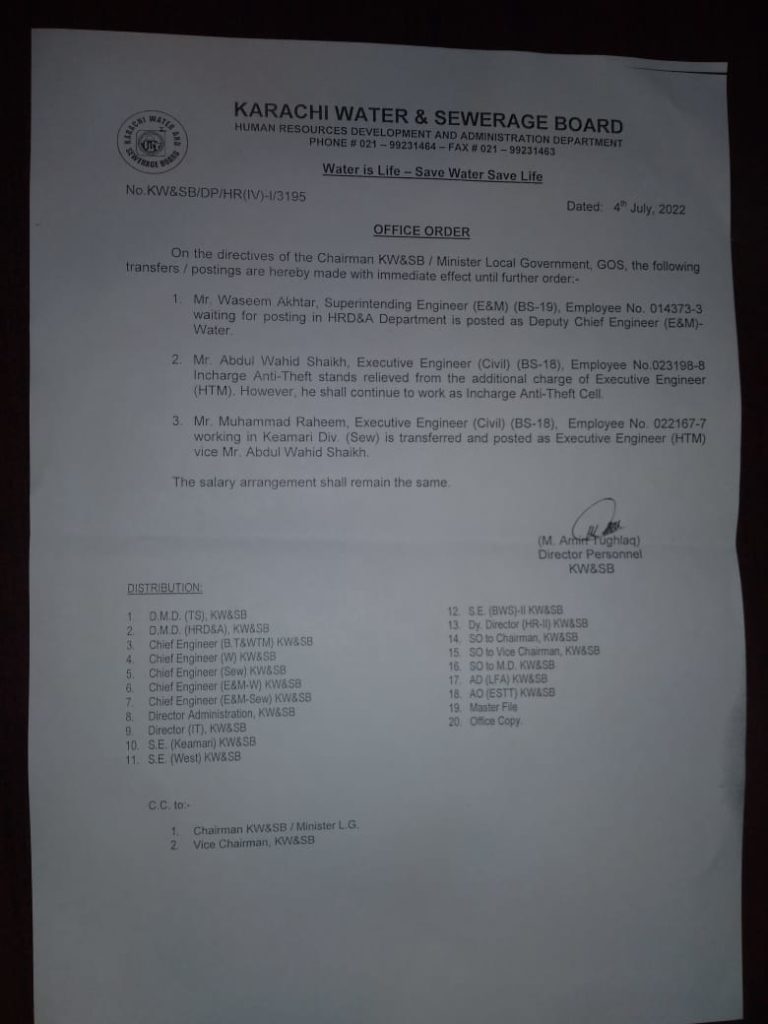 It should be noted that Palijo was caught in the act by Anticorruption while receiving bribes. After that, he released a statement in which he confessed that, like everyone else, he accepts bribes. It is said that he was acquitted by paying a bribe.
Palejo's residence is in the camp office of KWSB's first project at the University of Karachi, where he also kept several cattle and uses free electricity and gas for his dairy farm.
When contacted, Palejo claims he only has one buffalo and the rest of the buffaloes and cows are owned by other people. He also claimed to have responded to the letter written against him by the chief engineer of SIDCL.