It may come as a surprise to know that there are virtually no new US electric vehicle (EV) manufacturers entering the S-Network Electric & Future Vehicle Ecosystem Index (COMING). In the recent past, these stocks seemed to attract disproportionate attention in the news, as low interest rates, the drive to invest in high-growth tech companies, and a push toward energy transition contributed to a proliferation of start-up EV companies. In 2020 and 2021, there were about 20 SPACs in the electric vehicle manufacturing segment alone (and nearly 60 in the broader future mobility space).(1) But if you consider sales of vehicles, most of these new entrants still don't have scheduled deliveries until later this year or even into 2023. Instead, vehicle sales are still dominated by companies like Tesla (TSLA) or old automakers, which can be found in the COMING index. The index provides a view of the current electric vehicle market, while excluding companies that are not yet contributing significantly to industry revenue. Index-based products such as ETFs can help provide a holistic view of thematic areas such as future mobility, while diversifying stock-picking risk, particularly in sectors that may include emerging small-cap tech stocks .
Pure-play electric vehicle companies are mostly new entrants in the pre-production (i.e., pre-revenue) stages.
While pure EV companies have been in the spotlight, actual battery electric vehicle production is still minimal (or zero) for many of these companies (see chart below). Companies like Fisker (FSR) earn a small income from the sale of branded clothing and do not plan to deliver vehicles until the end of 2022. (2) Others like Canoo (GOV) encountered potential production delays. In its latest earnings release, GOV said they were uncertain whether they would reach their target of 3,000 to 6,000 this year and, more importantly, indicated that there is substantial doubt that the company will be able to finance itself at the future. (3) Then there are those who have started production—like Lucid Group (LCID)—but increased production very slowly. In its publication of 4Q21 results, LCID had previously cut its 2022 production from 20,000 to 12,000 to 14,000 vehicles, citing supply chain constraints and an emphasis on quality. But at the end of 1Q22, LCID had only delivered 360 vehicles YTD.(4)
Production delays, lack of material revenue and high rates of cash burn have made stock picking in this segment difficult, especially for risk-averse investors who may be interested in the EV space as a thematic investment. As with most emerging small-cap tech stocks, the upside potential may seem tempting, but may be offset by the possibility of significant losses on the downside. COMING uses a rules-based methodology that selects companies with a market capitalization of at least $500 million and at least 50% of revenue from the electric vehicle industry (to qualify as pure-play). A company can technically qualify for the index without earnings as a diversified constituent; however, diversified constituents are only included after all eligible pure constituents have been selected or 100 pure constituents have been selected. (See full details on the index methodology here.) Besides Tesla (TSLA) none of these pure EV companies are currently in the COMING index given small market capitalization, no material revenue from electric vehicles, or a combination of the two.
Traditional automakers are spending money to maintain and grow their share of the U.S. electric vehicle market.
Despite production delays among new entrants, there has been overall positive market growth driven by traditional automakers, which have invested more capital to expand their EV production targets. In 1Q22, battery electric vehicle (VEB) registrations in the United States reached 4.6% of total vehicle sales, according to Experian.(5) VEB sales are mainly attributed to Tesla (which owned more than 75% of the VEB market in 1Q22). The remaining sales come from traditional automakers like Kia (000270 KS), Ford (F) and Hyundai (005380 KS), although each currently has a market share closer to 4-5%. While these automakers have been manufacturing hybrids, plug-ins and other alternative fuel vehicles for many years, BEVs are relatively new and more difficult to produce, especially with recent battery and semiconductor constraints. . Toyota (7203 JP, index weighting 4.6%), which is the world's largest traditional automaker, has been a leader in alternative fuel vehicles (with over 50% market share) , but until recently it was reluctant to build a significant share in VEBs. . In fiscal 2022, electric vehicles accounted for 28.4% of its total retail vehicle sales by volume, up from 23.7% the previous year. BEVs, however, accounted for only about 0.2% of vehicle sales (16,000 units). The company plans to sell 95,000 BEVs next year as part of its goal of 3.5 million units per year by 2030, a planned investment of 4 trillion yen ($35 billion). (6)
Content continues below ad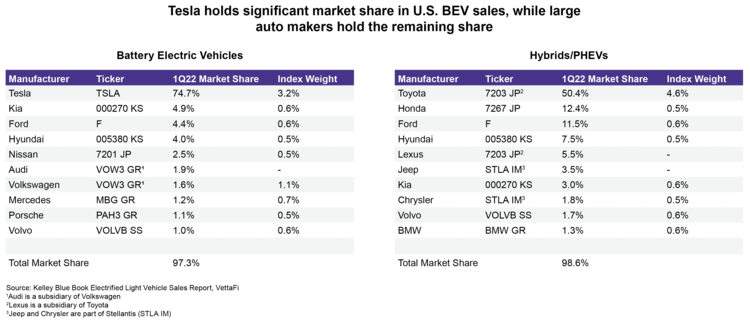 While this note examines the US passenger electric vehicle landscape to show the clear distinction between incumbent manufacturers and new entrants, it is worth briefly mentioning the electric vehicle industry in China. China's electric vehicle industry is more mature, with several pure electric vehicle companies among its key players. These companies are currently in COMING, which represents the entire global future mobility industry. These constituents include BYD (1211 HK, index weight 1.1%), Li Auto (LI, index weight 0.5%), Nio (NIOindex weighting of 0.5%), XPeng (XPEV, index weight of 0.5%). As the U.S. EV market matures, some pure EV components could eventually take more market share, as we've seen in China, but so far these new entrants remain minor contributors. to revenues from the electric vehicle industry despite the popular attention these stocks are receiving.
Conclusion:
Currently, the electric vehicle industry is still in its infancy and very few new entrant electric vehicle companies are likely to enter the market in the next year. Instead, vehicle sales are being driven by companies like Tesla and traditional automakers, which are now investing capital to expand and grow their market share. In our next EV note, we will examine the remaining segments of the index, which include semiconductors, batteries and other enabling technologies.
The S-Network Electric & Future Vehicle Ecosystem Index (COMING) is the underlying index of the First Trust S-Network Future Vehicles & Technology ETFs (CARZ).
Related search:
Investing in electric vehicles: what is it? COMING Could bring
Crypto Logs: Beyond Bitcoin, Crypto Stocks
Thematic periods: the centuries-old transition to online shopping continues
Thematic timetables: travel is heating up this summer
(1) Inside electric vehicles
(2) Fisker Investor Presentation – May 2022
(3) "Canoo 1Q22 Earnings Release": https://investors.canoo.com/news-presentations/press-releases/detail/82/canoo-inc-announces-first-quarter-2022-results
(4) Publication of lucid 1Q22 results
(5) United States: sales of all-electric cars increased by 60% to almost 160,000 in the first quarter of 2022
(6) Release of Toyota FY4Q22 results